Culminate Your Training and Start Your Career at a
FIRST-RATE INSTITUTION IN UTAH'S BEAUTIFUL SALT LAKE VALLEY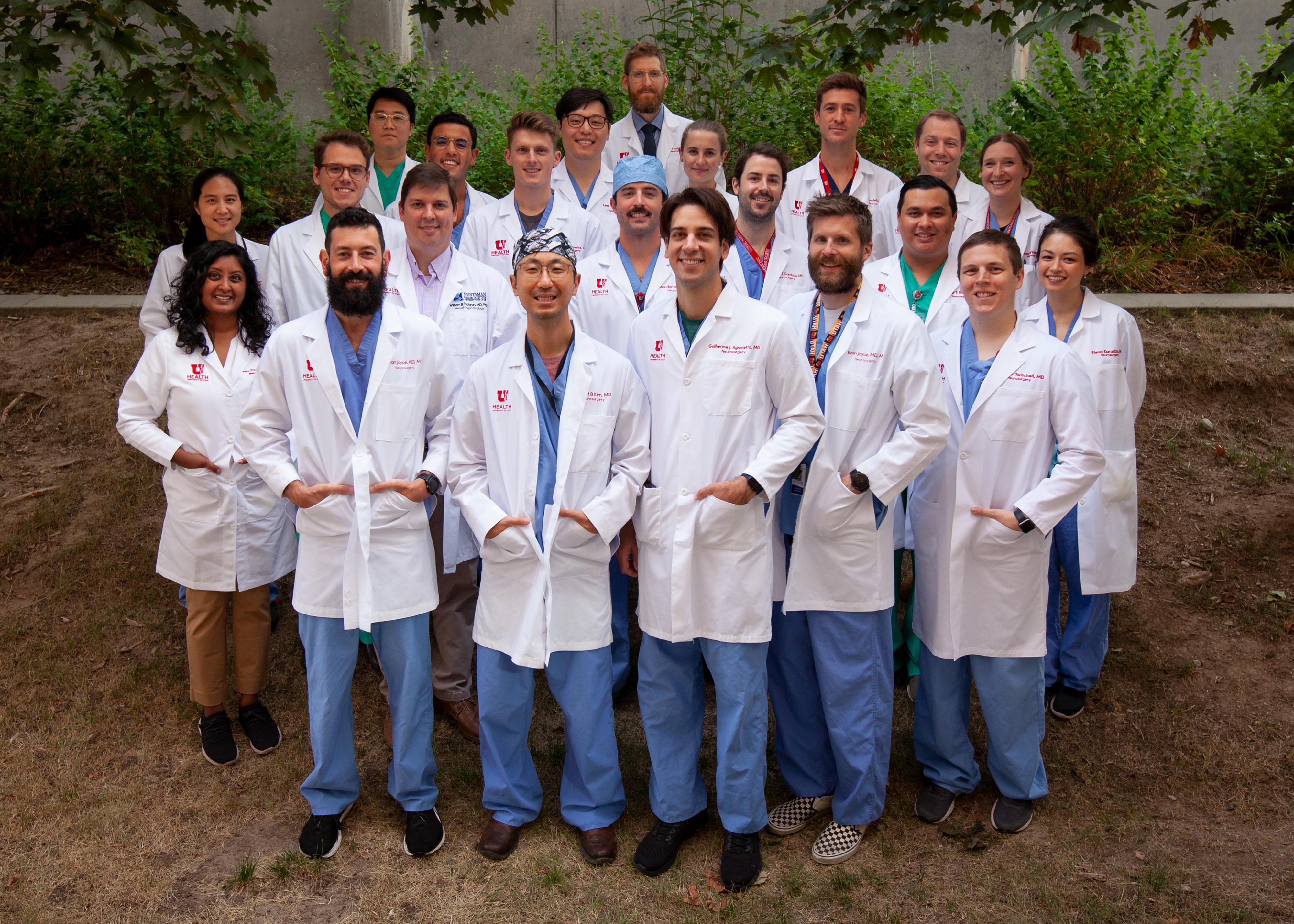 The University of Utah Neurosurgery Residency Program is designed to create talented surgeons, neurosurgeon-scientists, and leaders. The program prepares individuals to become fully competent and compassionate neurosurgeons, and exposes each resident is exposed to all aspects of neurosurgery. 
Neurological Surgery Residency Program Goals:
excellence and compassion in patient care;
comprehensive training in all aspects of the diverse field of neurosurgery;
exploration of and participation in the frontiers of research;
extensive hands-on surgical experience with the development of clinical decision-making
The residency program offers residents the opportunity to acquire knowledge and techniques they will use in their future practices and preparing them for future leadership roles in neurosurgery. There are also opportunities to engage in clinical and basic science research. Neurosurgery residents are highly valued in our program, and we have been fortunate to attract and select individuals who have previously demonstrated their intelligence, thirst for knowledge, commitment to neurosurgery, ethical integrity, and capacity and willingness to work as cooperative members of a health care team.
Message from the Program Director
Welcome to the website of the Neurosurgery Residency Program at the University of Utah. As Program Director, I speak on behalf of all our faculty in sharing our excitement and pride in training the next generation of neurosurgeons. To begin with, I'd like to share with you our brand-new department mission statement:
At the University of Utah, our top priority is to prepare neurosurgeons for successful careers in academic medicine. We do this by providing high-quality, comprehensive, and compassionate neurosurgical education. Our goal is to train residents to provide outstanding care for future patients, conduct important research, and develop into neurosurgical leaders.
In order to accomplish this mission, our residency program offers many unique opportunities in world-class, state-of-the-art hospital facilities in Salt Lake City. The University of Utah medical campus, Primary Children's Hospital, and the Salt Lake City Veterans Administration Hospital are the primary training sites. These facilities are major referral centers for patients throughout the Intermountain West extending from Montana to Nevada. The clinical faculty cumulatively perform over 6000 operative cases each year. Last year, our graduating chiefs each performed over 4,800 cases during their seven years of training. Furthermore, our department has close ties with the Huntsman Cancer Institute and the University of Utah main campus, both environments rich in research opportunity and innovation.
We create teams of physicians and healthcare professionals that are continuously focused on exceptional patient care. We foster graded clinical and surgical independence as our residents advance through their training. Every neurosurgical subspecialty is represented by at least one faculty expert. Two of the seven years of residency training are dedicated to research and/or focused clinical practice. We are interested in recruiting talented individuals who are ambitious to learn and passionate about neurosurgery. Please click on the following link for additional application information on how to apply.
Sincerely,
Douglas L. Brockmeyer, MD, FAAP
RESIDENT ROTATION LOCATIONS
The academic and clinical program is enhanced by the fact that the training occurs in six diverse locations. The six teaching institutions that form the backbone of the program include: University of Utah Hospital (UUH), Huntsman Cancer Institute (HCI), Primary Children's Hospital (PCH), the Salt Lake City Veterans Administration Medical Center (VAMC), Davis Hospital & Medical Center, and Jordan Valley Medical Center.
The rotation schedule is designed to facilitate a stepwise accrual of knowledge and expertise. Residents are given graduated levels of responsibility toward achieving competency and finally mastery of the technical aspects of neurological surgery.
RESIDENT PARTICIPATION IN RESEARCH
Residents often have opportunities to engage in clinical and basic science research. All residents are required to participate in the research process. The lessons they learn in their research will help them become better physicians as they further their own knowledge base and contribute to a practice of evidence-based methodology.
 
Living in Utah & Life Outside the Hospital

The medical center sits in the foothills of the spectacular Wasatch Front Mountains, overlooking the Salt Lake Valley. Salt Lake City offers a wide variety of cultural activities, including the nationally recognized Utah Natural History Museum, and Ballet West. Residents can enjoy endless outdoor activities, including world-class skiing, boarding, bike riding, hiking, camping, and river sports. Learn More
48th Annual Richard Lende Winter Neurosurgery Conference
The 48th Annual Richard Lende Winter Neurosurgery Conference will be returning February 2-5, 2024! This ...
Department of Neurosurgery
Phone: 801-581-6908
University of Utah Health Care
Clinical Neurosciences Center
175 North Medical Drive East
Salt Lake City, UT 84132